Family Run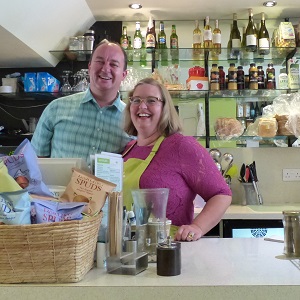 Fiona's Pantry is a family run delicatessen and private catering company, based in the picturesque village of Keston, with its village green, views of the North Downs and 13th Century church. The delicatessen is owned and run by Fiona, who is passionate about the provision of delicious homemade food, created from the finest, locally sourced ingredients. The concept is simple, using quality ingredients, whether British or native to the originating country, to make something tasty and nutritious every day.
The delicatessen has been awarded the much-coveted 5 stars certificate by the Environmental Health Department of the London Borough of Bromley. This is known as Scores on the Doors (SOTD) and demonstrates excellence in food safety compliance. Fiona never compromises standards of food preparation, safety and hygiene, knowing it is essential to inspire consumer confidence and choice, based on these important factors.
Fiona sees the delicatessen as central to serving the needs of the community. With its convenient location and parking, it is used on a regular basis for Police Surgeries and well supported by the local residents, many of whom are regulars who appreciate the excellent homemade food and welcome from friendly staff. Weary walkers and re-energising cyclists often seek refreshments when they reach Keston village, drawn by the irresistible aroma of fresh coffee, grilled bacon and homecooked bread and croissants.
High Quality Food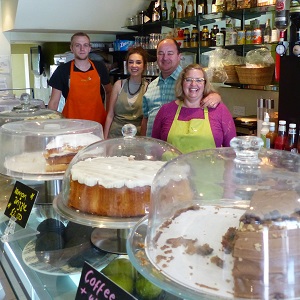 The light green and olive painted walls complement the dark wooden chairs and the green and orange aprons all add to the relaxed ambience of Fiona's pantry.
The pantry is stocked with an extensive range of high quality food, such as award winning cheeses, meats, tasty pies and quiches, colourful salads, pasta and home baked cakes. Italian sauces jostle with jars of homemade pickled onions, chutneys, jams and relishes together with deli staples of pates and biscuits. Wherever possible, Fiona sources ingredients from Kent or small English companies renowned for their high end products. Often these provisions are not found on supermarket shelves and are directed at customers with a more discerning palette.
For dietary needs such as gluten free and coeliacs, we have always got choices available on the menu and specials, Fiona uses cornflour in most of her savoury dishes so that there is something for everyone.
Regularly Changing Menu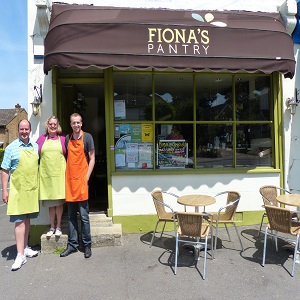 Breakfast options include toast or croissants to a full English, made from locally sourced ingredients, which are grilled not fried, making this a much healthier option.
Afternoon teas include a wide selection of finger cut sandwiches and cake or cream teas with enticing cream scones, served with a pot of tea or coffee of choice
The Pantry is fully licensed for alcohol.
Delicious sausage rolls are made from sun-dried tomatoes, sausage meat, and home-minced pork, from trusted suppliers. The filling is combined with fresh garlic and cheddar cheese, before being wrapped in our light puff pastry. Perfection on a plate.
Baguettes and croissants are freshly baked; sandwich fillings and salads are prepared each day and Fiona makes all the jams, chutneys and pickles.
The menu changes regularly and includes homemade soups, the ever-popular Welsh rarebit, Deli and Antipasti platters, together with delicious homemade scones and cakes.
Outside Caterer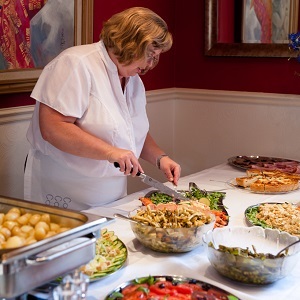 We have been professional caterers since 1999. Private catering is provided for all occasions, from weddings to intimate dinner parties, with the option of delivery or fully hosted events.
Fiona's experience of running a busy and popular Italian style coffee bar 'Café Concerto', led to the successful delivery of hundreds of events, including:
Celebratory parties
BBQ's
Cheese & Wine events
Open University fundraising events for the Vice Chancellor
Private jet catering
Catering for Kent County Council and the Mayor
Battle of Britain Officers Receptions held at RAF Biggin Hill for over 300 guests
Fiona's Pantry also offers picnics to order and homemade dinners to take away and reheat.
The philosophy on which Fiona's Pantry is based is simple: A passion for creating delicious, home cooked food from high quality ingredients, coupled with excellent service and five star hygiene.
Customer Feedback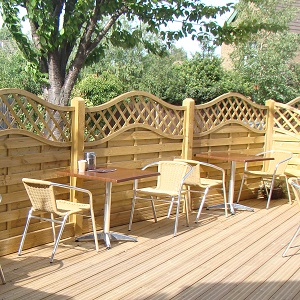 "Fiona's is unique, we love it. A great little venue, good coffee, good food, interesting new foods, very friendly, and efficient. Moreover we have attended a number of really unique tastings, of wine, and cheese, whilst Paul and Fiona have donated the proceeds to charity. A while back Paul and Fiona catered at a party we held for around 100, it was perfect. Keston would be a lesser place without the Pantry. Every village should have one!"
Phillip Naylor
Whilst we know that we will meet all of your requirements, we guarantee to surpass all of your expectations!
'The only thing left on a plate should be the knife and fork'
If you are searching for somewhere local, which serves excellent homemade food, do please call into Fiona's Pantry. Or if you have an event and need some help, please call Fiona or Paul on 01689 638910.
We would like to thank Claire Graham for the photographs that she has kindly allowed us to use in this website, she is an exquisite wedding photographer and her website is www.cgpgraham.com.