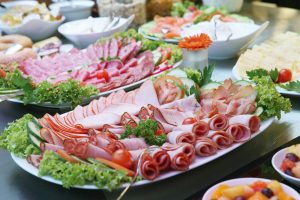 CHOICE OF THREE OR FOUR MAIN DISHES
INCLUSIVE OF QUALITY DISPOSABLE PLATES, CUTLERY & NAPKINS.
SHOULD YOU WISH TO UPGRADE TO CHINA CROCKERY & STAINLESS STEEL CUTLERY PLEASE CONTACT US FOR PRICES.
PLEASE NOTE, WE HAVE MINIMUMS OF 30 PERSONS.
VEGETARIAN CHOICES
Goats Cheese and Asparagus Quiche
Mediterranean Vegetable Tart
Beetroot, Red Onion & Goats Cheese Platter dressed with Raspberry Vin Cotto
Selection of Four Cheeses from our deli range with Cheese board accompaniments
Roasted Butternut Squash and Mediterranean Vegetable Platter with a Pesto Dressing
Asian Noodle Salad with Seasonal Vegetables & Peanuts (Vegan)
Portobello Mushroom & Cashew Nut Pate (Vegan)
FISH CHOICES
Smoked Salmon and Tail on Prawn Platter
Fennel and Sauvignon Poached Sides of Filleted Salmon
Mixed Seafood Salad in a Chilli, Lime and Ginger Dressing or a light Balsamic Vinaigrette
Smoked Fish Platter to include:  Smoked Salmon, Peppered Smoked Mackerel, Hot Smoked Salmon & A Smoked Mackerel Pate
Gourmet Fish Platter* to include a selection from the following:  Fresh Prepared Lobster, Langoustines, Smoked Salmon, Fresh Baked Salmon, Cold Served Scallops topped with a Pancetta & Spring Onion Dressing
* Please allow a surcharge per head and a minimum of 12 persons – contact us for more details.
MEAT CHOICES
Continental Meat Selection: to include Italian, Spanish, Polish & Specialist British Charcuterie
Platters of Freshly Roasted Meats; Turkey, Ham, Beef & Pastrami
Homemade Coronation Chicken made with Apricots and Almonds
Prosciutto, Fresh Fig*(Seasonal), Walnut, Goats Cheese & Rocket Platter drizzled with an aged Fig Vin Cotto & Olive Oil Dressing
Pork or Gala Pie
Gourmet Meat Selection* Sliced Cold Homemade Salt Beef Platter with Sauerkraut & Gherkins
Hunters Pie or Ploughmans Pie
* Please allow a surcharge per head and a minimum of 12 persons – contact us for more details.
A selection of Four from the following Salads:
Roasted Vegetable Rice
Tuna, Sweetcorn and Pepper Fusilli Pasta in a lemon mayonnaise
New Potatoes and Spring onions in a Creamy Minted Mayonnaise
Vine Ripened Tomatoes with Fresh Basil leaves and Olives dressed with an aged Balsamic
Vinaigrette Caesar Salad; Crispy cos lettuce with Parmesan and Croutons dressed with a garlic Mayonnaise
Fresh Salad baby leaves
Beetroot and Red Onion Salad
Mixed Bean Salad with an Olive Oil and Vin Cotto dressing
Edamame and Green Bean Salad with a ginger, lime and soy dressing
Waldorf Salad
Rustic Greek Salad
Fresh and chunky homemade Coleslaw
Bread Basket with fresh Butter
Staff Charges 
Let us make light work of your event and allow you to feel like a guest at your own party!
All our staff are fully trained and professional. They are charged per hour, per staff member to help serve, clean and clear away.  Each staff member must be employed for a minimum of 4 hours regardless of start and finishing time.
In order to book our Catering Services we would require a non refundable deposit, which would book the date in the diary.  This would be deducted from the final balance which would need to be paid at least 7 days prior to your function. 
This menu has been prepared by Fiona Harrhy, Executive Chef of Fiona's Pantry and Concerto Catering Company, it is by no means set in stone and if there is anything else that you would rather have, please don't hesitant to contact us to discuss your requirements further.   We would love to have the opportunity of exceeding all your expectations!