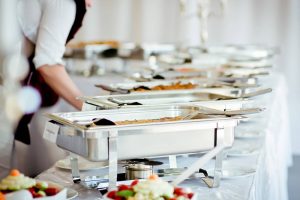 CHOICE OF THREE OR FOUR MAIN DISHES
INCLUSIVE OF QUALITY DISPOSABLE PLATES, CUTLERY & NAPKINS.  SHOULD YOU WISH TO HIRE CHINA PLATES AND STAINLESS STEEL CUTLERY, PLEASE CONTACT US FOR PRICES.
Also including table coverings for the Buffet Food Tables
VEGETARIAN CHOICES 
Butternut Squash, Spinach and Chick Pea Curry finished with Coriander (Gluten & Dairy Free, Vegan)
Mediterranean Vegetable Ratatouille Bake topped with Cheddar Cheese (Gluten Free)
Delicious chopped Mediterranean vegetables in a rich rustic tomato ragout topped mature cheddar gratin  
Asparagus, Pea, Spinach and Four Cheese Lasagne
Spicy Bean Cassoulet (Gluten & Dairy Free, Vegan)
Moroccan Spiced Halloumi and Bean Warm Salad
Oriental Mushroom Stroganoff (Gluten Free)
A Selection of wild or Oriental mushrooms and shallots cooked in a brandy and cream sauce
Vegetable Curry (Gluten & Dairy Free, Vegan)
A seasonal selection of fresh vegetables cooked in spices and a rich tomato sauce
FISH CHOICES
Fiona's Fabulous Fish Pie
Smoked Haddock, Cod, Salmon and Prawns in an unctuous Cheese, Chive and Herb Sauce topped with creamy potato mash and baked to a golden crust
Hot Salmon en Croute (Can be made Dairy Free)
Baked Salmon with a Watercress or Lemon Butter Sauce
Salmon & Prawn Pasta Bake
Smoked Haddock Kedgeree
MEAT CHOICES
Fiona's Deep Dish Lasagne
Finest Aberdeen Angus Beef Minced in a rich tomato ragout layered with fresh egg pasta and topped with my own Béchamel Sauce and a mixture of Mozzarella and cheddar Cheeses
Butchers Sausages with Onion Gravy
Unlike most sausages these are a 95% meaty sausage with a few herbs and no rubbish! We can also provide Cheesy Mash or Plain Creamy Mash to accompany this dish. They are also Gluten Free.
Thai Green Chicken Curry (Gluten Free)
Diced breast of chicken marinated in Thai spices cooked with peppers, onions and broccoli in coconut milk.  This dish is authentically spicy.
Breast of Chicken in Sauvignon and Cream Sauce with Portobello Mushrooms and Leeks
Champagne Chicken Fricassee (Gluten Free)
Diced breast of chicken cooked with onions, mushrooms and peas in a cream sauce finished with Champagne
Steak & Spitfire Ale Pie
Slow cooked Aberdeen Angus diced Steak cooked with mushrooms and onions in a rich beefy Spitfire Ale sauce all tucked into a shortcrust base and topped with a puff pastry.
Moroccan Lamb Tagine
Slow cooked Lamb fillet diced and sautéed with onions, peppers, chestnuts and apricots in a rich ragout flavoured with our own mouth-watering blend of Moroccan Spices
Chilli Con Carne (Gluten Free, Dairy Free)
Our Chilli is made using the finest steak mince cooked with onions, peppers, kidney beans, tomatoes and spices, all slow cooked in a rich beefy stock and finished with a cube or two of dark chocolate! You can order this medium or hot!
Beef Bourgignon (Gluten Free)
Slow cooked Aberdeen Angus diced Beef with shallots and button mushrooms in a rich red wine beef gravy – delicious!
Fillet Steak Stroganoff
Sliced Fillet Steak cooked with onions and mushrooms in a rich French Brandy & Cream Sauce with Black Pepper
Spanish Style Smoked Paprika Chicken (Gluten Free)
Diced breast of chicken with Chorizo, mixed peppers and white beans in a Sherry, Red Wine and Tomato Sauce
Most of our dishes, can be made Gluten Free or Dairy Free should you wish.  If you have any special dietary requests we are always happy to cater for these.
Hot buttered and minted New Potatoes
Or
Freshly Cooked Rice
A Green Salad, Tomato Salad or Fresh Selection of Seasonal Vegetables also accompany dependent on your choices
Speciality/Artisanal Bread Basket with fresh Butter
STAFF CHARGES
For the Hot Fork Buffet, please contact us for prices 
Let us make light work of your event and allow you to feel like a guest at your own party!
All our staff are fully trained and professional. They are charged per hour, per staff member to help serve, clean and clear away.  Each staff member must be employed for a minimum of 4 hours regardless of start and finishing time. 
To book our Catering Services, we would require a non-refundable deposit, which would book the date in the diary.  This would be deducted from the final balance which would need to be paid at least 7 working days prior to your function.   
Please note that we do not include a Service Charge and Gratuities are Optional. 
This menu has been prepared by Fiona Harrhy, Executive Chef of Fiona's Pantry and Concerto Catering Company, it is by no means set in stone and if there is anything else that you would rather have, please don't hesitant to contact us to discuss your requirements further.