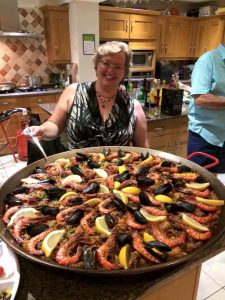 Authentic Paella's cooked in your home or venue in a Paella Pan that will take your breath away!
There is a choice of three main Paellas made to a traditional Balearic Recipe. All our Paellas are cooked in Paella Pans and come complete with the cook stand and fuel. We can cook these in a kitchen or outside but must have space in which to do so.
Mixed Meat Paella
To include, chicken, chorizo, pork and beef
Mixed Fish Paella
To include, mussels, scallops, prawns, monkfish and squid
Mixed Meat and Fish Paella
Our all time favourite containing, chicken, chorizo, pork, prawns, mussels, squid or scallops.
£18 per head minimum 30 people.
£15 per head minimum 50 people.
£12.50 over 100 people.
To include, two hours Chef to cook, serving bowls, cutlery, napkins, all hire equipment, lemon wedges and side salad.
If you would like garlic bread or patatas bravas please add £1 extra
These are a great social food which can be eaten standing up with just a fork or spoon, although the prawns do require part or full peeling.
We treat every event with a personal touch, whether it is a hot or cold buffet, wedding breakfast, a silver service sit down meal, or a hog roast. For an initial consultation to identify options, preferences and budgetary restraints please call 01689 860 560 or 07870 584 880.