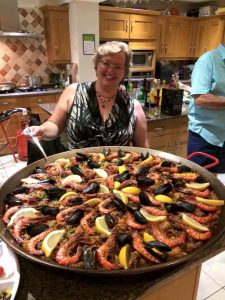 PAELLA PARTIES!
If you fancy something very different and fantastically tasty, then why not ask us about our amazing Paellas!
Mixed Seafood and Meat
An authentic FULLY LOADED mix of Chicken, Pork, Chorizo, Lamb, King Prawns, Squid, Mussels, Onions, Mushrooms and Peppers all cooked in our own mix of Spanish spices and Paella Rice.  The Real Deal!
Meat Feast
Chicken, Pork, Chorizo, Lamb, Onions, Mushrooms, Peas, Peppers and Green Beans in our special Spanish Spices and Paella Rice.  The Meat Lovers Treat!
Seafood Delight
Jumbo King Prawns, Mussels, Baby Squid, Scallops, Peas, Onions, Mushrooms, Peppers, Tomatoes and Green Beans with Lemon Wedges all cooked together in our special Spanish Spice mix and Paella Rice.  The real Paella lovers, wait until the end for the Socarrat (the Paella Crust), which forms on the bottom!  It's delicious!
All our Paellas are served with Crusty Bread and a Green Salad
Includes Paper Plates, Disposable Cutlery and Napkins
PRICES BASED ON MINIMUM OF 30 PEOPLE
ONE PAELLA WILL FEED UP TO 30 PEOPLE. 
PAELLA CHEF REQUIRED FOR A MINIMUM 3 HOURS
Paella Pan and Gas included.
Should you wish to upgrade to China Crockery and Stainless Steel Cutlery please contact us for prices.
WHY NOT ADD SOME DELICIOUS TAPAS DISHES AND TURN IT INTO A SPANISH EVENING!
Patatas Bravas (Crispy Potatoes in a spiced tomato sauce)
Champignones al ajillo y Jerez (Garlic Mushrooms in Sherry & Cream Sauce)
Gambas al ajillo (Garlic Prawns)
Tortilla Espanola (Spanish Omelette)
Calabaza con Romero y Ajo (Squash with Rosemary & Garlic served on a Rocket Salad)
Albondigas (Meatballs in a spicy Red Wine Sauce)
Choose Three or Four Dishes from the Tapas Choices.
These can only be included with a Paella.
For your peace of mind, we are 5* Awarded by the London Borough of Bromley, Environmental Health Team and take pride in the fact that all our food is of the finest quality and is produced on the day of your function so that it reaches you in its optimum freshness.  Our standards are second to none and never compromise on our attention to detail.  We know you will taste its quality.