5 Star, Scores on the Doors Outside Caterer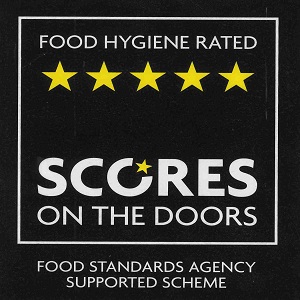 Whatever function you are looking to cater for, our ethos is for the host to enjoy their party or event as if they are one of the guests without the stress of the food preparation, the presentation and the clearing up. We leave your kitchen as if you've never had a party.
Fiona's Pantry offers outside catering for clients, providing delicious food and personal service at competitive prices. All events and occasions are catered for, with a wide and eclectic range of foods. Fiona uses the best ingredients, sourced locally whenever possible, or from renowned British companies, and puts her own individual and unique slant to well-known recipes. The company takes great pride in being one of the few outside caterers in the area to be awarded the much-coveted 5 stars Scores on the Doors (SOTD) by the environmental health department of the London Borough of Bromley, which encompasses:
• Food hygiene and preparation
• Food storage
• Freshness of food
Scores on the Doors ensures a high level of confidence and trust in their catering services.
Our mission is to provide all-round quality food and service that is talked about for years to come, for all the right reasons.
Free consultation in your home or office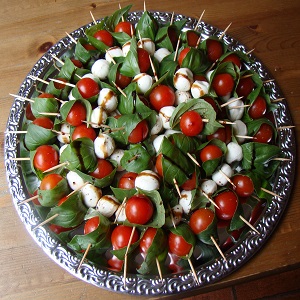 Fiona makes an appointment in your home and spends time on this initial consultation, to identify specific culinary options, choices and preferences as well as budgetary restraints. Specific requirements, such as meet and greet, hanging coats or serving canapés are identified, ensuring delivery of a bespoke, tailored event.
After this consultation, Fiona and her team start to construct the occasion, whether it is a buffet, wedding, or afternoon tea. Advice is given on choices of menus, table arrangements and decorations in order that all is perfect on the day. Whether it's a formal occasion, with silver service, or a relaxed barbecue or cheese and wine event, all have the same meticulous attention to detail and high standards. There are options for delivery with self-service or fully hosted functions.
All members of staff are trustworthy, reliable and smile readily, taking pride in being part of a very professional and experienced team. They all dress in smart black and white attire and are prepared to be flexible for event bookings, thus avoiding the necessity of using agency staff.
Events catered for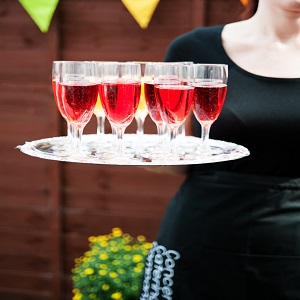 Weddings
Catering is provided for all weddings from very informal to silver service wedding breakfasts. Some Brides and Grooms prefer the informality of afternoon teas – delicate finger cut sandwiches, homemade scones, sliced homemade cake, tea, coffee and champagne. Wedding menus range from a simple chicken main course through to a 5 course gourmet banquet. Fiona's Pantry can cater to all tastes and styles of wedding breakfast and deliver impeccable food for your special day.
Dinner Parties
Delicious, innovative food for dinner parties can be created from previously agreed menus, which allows hosts and hostesses to present stunning dinner parties, which impress and delight their friends and family. We leave your kitchen as if you've never had a party.
Events catered for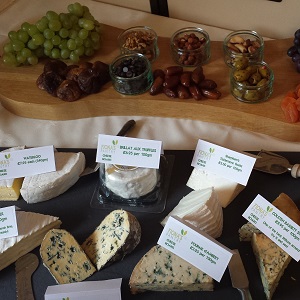 Cheese & Wine Parties
Do you fancy holding your own cheese & wine evening?
Why not leave it to us to organise a Cheese & Wine Party for you! We will choose you some fantastic cheeses, all with a great story and then bring along matching wines, ports, sherries and ales for you to try with your friends and family.
It's a wonderful experience and an education; did you know that dark chocolate is a sublime combination with a stilton??
It is for a minimum of 20 people and creates a super atmosphere for a social event. The wines and cheeses can be purchased, but it's not about that, it is about giving our customers a night to remember.
Don't forget you can order your cheeses and wines from us too!
BBQ's
Homemade burgers, high quality sausages sourced from a local butcher, vegetable kebabs, chicken marinated in our own sauces, fresh and colourful salads, breads, sauces, relishes and pickles….. We supply everything to make your BBQ go smoothly, we provide all of the equipment, serve in full chef whites and do all of the clearing up so you wouldn't even know you've had a party. Leaving you to enjoy your event like one of the guests.
We cater for 10 to 300+ guests and can tailor make your BBQ to your tastes, needs and budget.
Corporate Catering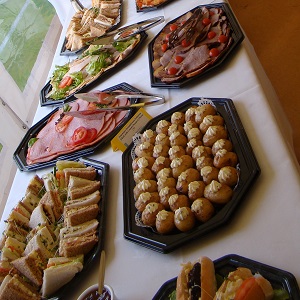 As a long established, independent office catering company, we excel in corporate catering. With high quality ingredients, sourced locally prepared and cooked in our deli in Keston, Bromley we can cater for any office / corporate event. We have supplied food for events from a working lunch for 6 guests to the catering for the Battle of Britain Officers Reception for over 300 guests.
You can be assured of the highest quality of service and attention to detail.
Being one of the very few 5 star Scores on the Doors catering companies, you can be assured of the highest quality food, prepared and cooked in the best environment leaving you to concentrate on the task in hand.
The quality of our food and service is evidenced by the volume of repeat customers we are delighted to serve.
With many, many years' experience in the catering business, we have catered for events including:
• Mayoral Inauguration
• Battle of Britain
• Open University
• Metropolitan Police
• Kent County Council
Customer Feedback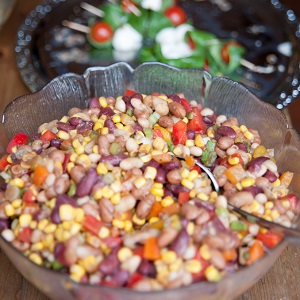 "We had a garden party for 150 people. We didn't really know where to start with the catering so we hired Fiona's Pantry. They came up with some amazing ideas. The food was a complete success. We had a hot food buffet, with curries and pasta. We also had a stunning cheese board for dessert. The guests raved about the food for weeks after. Concerto supplied all the staff who were fabulous. We will definitely call on you again."
Paul & Caroline Jackson
"We used this company for a corporate wine and cheese night, it was fabulous. Not only did they bring along a huge selection of unusual cheeses but also some unusual accompaniments (including chocolate). The staff were very knowledgeable regarding the cheese and wine and were able to give great advice regarding what wine went with what cheese, and even the order to try the different cheeses. We would happily recommend them."
Kirstie Edmondson
"Having used Fiona's Pantry at our daughters wedding I can pat myself on the back. The food was 'out of this world' Cooked to perfection, even passing the "fussy brother in law" test, I cannot recommend Fiona's Pantry highly enough. The 'piece du resistance' was the Hawaiian fruit stall surrounding an enormous chocolate fountain There were NO restrictions as to the amount you could eat either, the food and chocolate, just kept flowing!! As I said, I cannot recommend Fiona's Pantry highly enough!!!"
Gill Shaw
If you need any help or advice on private catering services, please do not hesitate to call Fiona or Paul on 01689 860 560