2019 the year for Celebration & Restructure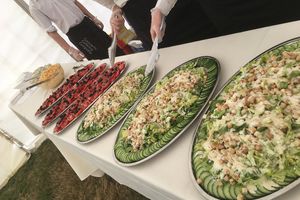 So starting off the bad news, we have decided to close our small deli/café, Fiona's Pantry, which we opened in Keston, Kent, in 2011, owing to the increase in demand for our Catering Services.
However the good news is that even though we celebrate our 20th year in March this year, our business is still going from strength to strength and our decision to concentrate all our efforts on the Catering, is already showing that we have made the right decision.
Our diary is already proving the demand for more than 3 teams on some of those 'crunch date' weekends for this year and with 2020 on the horizon it could be our busiest yet as some say it will be a very lucky year!
Why choose us?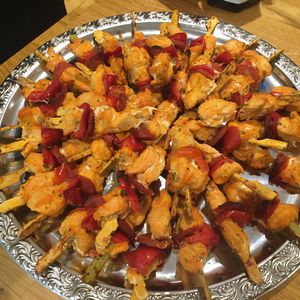 With over 20 years of catering experience and proud owners of 5* Food Hygiene on Scores on the Doors, you can rest assured that we are sound in our knowledge of all things food related.
Delicious food, often locally sourced or from suppliers who we have known for years and trust, we create a tasty, hearty food you can be passionate about eating!
We can offer you a fully staffed and equipped event where you can be relaxed in our hands for a perfect day, whatever the occasion.
Or perhaps you prefer the idea of just a drop and go service, professional delivered direct to your door
Or even something more discreet, delivered in your pots so that it looks like you have slaved all day instead!
Culinary Diversity is the name of the game… with a wide range of strongly British Cuisine, offering you our hearty pies, to the more delicate offerings of lobster or fish dishes, Paella's & Big Pan Dishes, amazing Curries from all across Asia, a Country wide based Cheese Board selection to die for or maybe a delicious European Charcuterie Platter or combine the both with one of our outstanding Grazing Tables new for 2019, not forgetting our choice of desserts which from our unctuous Sticky Toffee Pudding to our delicate individual Cubique Pots, we are sure to have you drooling before you have made your choice! What we can say is just don't look if you are hungry!
With our flexible approach to your occasion, the choices are endless – just use us to guide you for a perfect day!
Firstly, we sit and discuss your likes and dislikes and any food or dietary requirements that you have, then we programme the food into your timings/day schedule and from there it is seamless.
Our friendly and professional team will have you covered no matter what arises, all of whom have worked with us for a number of years and know exactly how we work.