Summer Berry Pavlova
Strawberry & Raspberry Eton Mess
Raspberry & Belgian Chocolate Tart
Summer Berry Sherry Trifle
Jaffa Layer Trifle
Belgian Chocolate & Cherry Ganache Mousse
Fresh Fruit Salad
Banoffee Pie
Apple Strudel
Apple Pie
Lemon Meringue Pie
New York Style Baked Vanilla Cheesecake with either a Raspberry Compote or a Mango, Lime & Coconut Coulis
Cherry Bakewell Tart
Belgian Chocolate Profiteroles
Salted Caramel Profiteroles
Home Made Buttermilk Scones with Clotted Cream and Strawberry Preserve
Key Lime Pie
Double Chocolate Gateaux
Minimum of 24 people for two choices
HOT DESSERTS
Sticky Toffee Pudding
Rhubarb & Strawberry Crumble
Peach & Raspberry Crumble
Apple & Blackberry Pie
Jam Roly Poly
Traditional Clotted Cream Rice Pudding
Hot Belgian Chocolate Pudding
Minimum of 14 per choice
Also We Specialise in our very own range of Desserts called CUBIQUES
These are handmade gorgeous little pots of delight, to include the following selection;  Jaffa Pots, Lemon Meringue Mousse Pots, Belgian Chocolate Pots, Tiramisus, Sherry Berry Trifles, Banoffee Pie Pots.
Recommended one pot per head.
These make a real statement and can be used instead of a Cake if you prefer!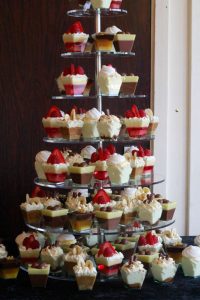 ALSO AVAILABLE FOR HIRE
OUR BELGIAN CHOCOLATE FIVE-TIER FOUNTAIN
Inclusive of all the skewers, napkins, choice of 4 dips and 10kg of Belgian Milk, Dark or white Chocolate.  Also included is a member of staff to assemble, serve and clear away, to avoid all that mess.  Serves 100 people.
Contact us for hire prices
NB:  If you are booking our full catering service, we offer a 10% discount off this total.
Please note that for your satisfaction and peace of mind, Both Concerto Catering and Fiona's  Pantry are Five Star Awarded from the London Borough of Bromley Environmental Health Department.  We take pride in serving our food knowing that it has been prepared to the highest standards and no compromises have been made to its quality.  In every regard, we know that we can meet your requirements but also exceed your expectations!
This menu has been prepared by Fiona Harrhy, Executive Chef of Fiona's Pantry and Concerto Catering Company, it is by no means set in stone and if there is anything else that you would rather have, please don't hesitant to contact us to discuss your requirements further.