Fiona's Pantry complementing your event with a seamless catering service for Weddings, Funerals, Birthdays, Dinner Parties, Corporate Functions, Lunches and much more.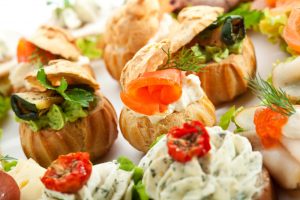 Fiona's Pantry offers a full catering service in Bromley and the surrounding areas for Weddings, Funerals, Birthdays, BBQ's, Corporate Clients or any event you may have!
We have the knowledge and experience to create something special that will complement your event and ensure the running of the day is seamless.  We will take over the whole catering side of things – we even do the washing up!
Below is a selection of example menus for you to view.
We treat every event with a personal touch, whether it is a hot or cold buffet, wedding breakfast, a silver service sit down meal.  For an initial consultation to identify options, preferences and budgetary restraints please call 01689 860 560 or 07870 584 880