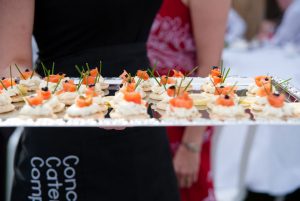 Wedding catering is one of our passions, and we have provided catering for weddings from the very informal to silver service wedding breakfasts and as the Bride and Groom you can be assured of the very best should you choose to use Fiona's Pantry as your wedding caterer.
Some Brides and Grooms prefer the informality of afternoon teas – delicate finger cut sandwiches, homemade scones, sliced homemade cake, tea, coffee and champagne. Wedding menus range from a simple chicken main course through to a 5 course gourmet banquet. At Fiona's Pantry, we can cater to all tastes and styles of wedding breakfast and we will deliver impeccable food for your special day.
A free wedding catering consultation in your home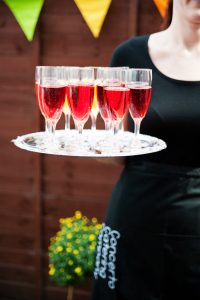 Fiona will make an appointment in your home and will spend time on this initial consultation, to identify specific culinary options, choices and preferences as well as budgetary restraints. Specific requirements, such as meet and greet, hanging coats or serving canapés are identified, ensuring delivery of a bespoke, tailored event.
After this consultation, Fiona and her team start to construct the occasion, whether it is a hot or cold buffet, wedding breakfast, a silver service sit down meal.
Advice is given on choices of menus, table arrangements and decorations in order that all is perfect on the day.
Whether it's a formal occasion, with silver service, or a relaxed barbecue, all have the same meticulous attention to detail and high standards.
All members of staff are trustworthy, reliable and smile readily, taking pride in being part of a very professional and experienced team. They all dress in smart black and white attire and are prepared to be flexible for event bookings, thus avoiding the necessity of using agency staff.
Build Your Own Wedding Packages
We offer a 'Build Your Own' Wedding Package for those who do and those who don't have an endless budget but do want to feed their guests with great food and have great service.  It offers our clients the ability to be flexible with the types of food and menus we can create.
Perhaps you want it all:
Canapés
Starters
Mains
Desserts
Cheese board
Tea/coffee
Evening Reception/Party Food
Bar Services/Cash Bar
Staffing
But perhaps you may only need the Canapes, Mains, and a cash bar!  Whatever your budget or thoughts, we have it all ready and waiting for what suits you, and with our management experience of your Catering needs, you'll feel like you've got it all anyway!
Taking the next step…
Book a free no obligation consultation on either a Monday, Tuesday or Wednesday evening.  We schedule appointments from 5pm – 8pm.  It usually takes anywhere from 30 minutes to an hour but it's worth it.  It saves countless emails where things get lost in translation and we believe that this face to face is very important, it gives you an idea of who we are, what we are about and instils confidence but more importantly, it let us know what you really want to achieve on your special day.
What happens on this visit?
Firstly, we discover what your favourite types of foods are?  Do you want to include this somehow on your day?  For example, whilst Fish and Chips isn't everyone's idea of perfect food, perhaps it's your favourite.  So, we could offer our mini fish and chip cones for a canape on arrival or indeed as part of your evening food!
Perhaps you like Curries. So, why not base your entire day around your love for the Nation's favourite!  We've done this before and it went exceptionally well!  Even serving 'Chilli' Martinis on arrival instead of the usual Buck's Fizz!
Secondly, we think out of the box, it's your day and one that you will hopefully only have the once!  As the food is one of the largest outlays on your day, make it count and be remembered for all the right reasons.
Thirdly, appreciate that everyone's day is unique to them.  What we plan together and build together, will be yours.
Fourthly, there must be something for everyone!  All dietary requests are taken care of, where possible.
Lastly, our personal service, experience and attention to detail is second to none and our consistently great reviews on our Social Media platforms speak for themselves.  We are proud to have been in business for nearly 20 years and are going stronger than ever.
From then on:
After this all important meeting, we type up a Catering Schedule for you as best as we can, considering timings and numbers are all just loose at this point.  This will give you a figure and a potential spend, all itemised and for you to choose whether you'd like to include or not.
Once you have decided that we are right to cater for your day, all we require is a non-refundable deposit which books the date out in our diary.
From then on, we would recommend only one further visit at approximately 6 weeks prior to your big day.  This is the Clarification and Finalisation Meeting, where we dot the 'i's and cross the 't's'.  Final Numbers and Timings are formalised and all included on the final Catering Schedule and Invoice ready for payment 14 days prior to your date.
It's all so easy, any questions, please give us an email and then sit back, relax and enjoy one of the greatest days of your lives!
Let us take your Catering into the next chapter of your life, after all, we've catered for engagements, weddings and then the christenings!  It's the circle of life!
5 Stars Scores on the Doors Caterer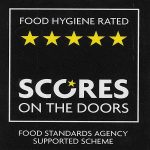 Fiona uses the best ingredients, sourced locally whenever possible, or from renowned British companies, and puts her own individual and unique slant to well-known recipes. The company takes great pride in being one of the few outside caterers in the area to be awarded the much-coveted 5 stars Scores on the Doors (SOTD) by the environmental health department of the London Borough of Bromley, which encompasses:
Food hygiene and preparation
Food storage
Freshness of food
Scores on the Doors ensures a high level of confidence and trust in their catering services.
Our mission is to provide all-round quality food and service that is talked about for years to come, for all the right reasons!
Call us today on 01689 860 560 or 07870 584 880 to book your free wedding catering consultation.
Wedding Catering Feedback
"Having used Fiona's Pantry at our daughter's wedding I can pat myself on the back. The food was 'out of this world' Cooked to perfection, even passing the "fussy brother in law" test, I cannot recommend Fiona's Pantry highly enough. The 'piece du resistance' was the Hawaiian fruit stall surrounding an enormous chocolate fountain There were NO restrictions as to the amount you could eat either, the food and chocolate, just kept flowing!! As I said, I cannot recommend Fiona's Pantry highly enough!!!"
Gill Shaw