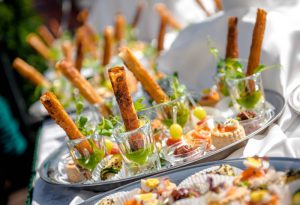 This buffet option is by far our gold choice and would suit any occasion.  It will enable you to put together a price which includes the hire of crockery, cutlery and our Catering Management services. The prices are based on a minimum of 30 guests, for smaller parties a more individual quotation can be given.
The only extra costs would be staff services, linens, glass and any other equipment hire costs which may be required.
Choice of three or four Main options
The buffet price also includes:
A Potato Option as chosen
A choice of Four of the Salads
Artisanal Bread Basket
A choice of Three Desserts
Tea and Coffee
Crockery, Stainless Steel Cutlery & Linen Feel Napkins
MAIN COURSES
COLD OPTIONS
Smoked Salmon and Tail on Prawn Platter
Fennel and Sauvignon Poached Sides of Filleted Salmon
Seafood Platters; Smoked Salmon, Poached Salmon, Smoked Mackerel, Tiger Prawns and Scallops
Continental Meat Selection; Salami, Parma or Serrano Ham, Chorizo Selection
Platters of Freshly Roasted Meats; Turkey, Ham and Beef
Homemade Coronation Chicken made with Apricots and Almonds
Cold Sliced Fillet of Beef(* minimum 25 persons)
Dressed Lobster and extra Large Crevettes(* minimum 25 persons)
 Selection of quiches… Goats Cheese and Asparagus, Mediterranean Pepper Quiche, Crispy Bacon and Spinach, Smoked Salmon and Asparagus, Four Cheese and Onion
HOT SELECTION
For any Hot Hold Equipment an additional hire charge is required per hot choice
Supreme of Chicken with Leeks and Portobello Mushrooms in a Cream and White wine sauce
Spanish Chicken with Peppers, onions and Courgettes in a rich Sherry and Tomato Sauce
Chicken Korma Style cooked with Coconut Cream, apricots, onions and ground almonds
Thai Green Chicken Curry – an aromatic and full flavoured spicy dish
Beef Stroganoff cooked with mushrooms, cream and brandy
Beef and Spitfire Ale Casserole with or without Dumplings
Beef Lasagne
Welsh Lamb Cutlets with a Redcurrant and Red Wine Sauce
Moroccan Lamb Tagine, made with authentic spices, onions, apricots and chestnuts
Pies are also available usually seasonal specialties – please ask
Fish Pie: smoked haddock, cod, salmon and prawn in a cheese and Chive sauce topped with creamed potato
Salmon En Croute
Smoked Haddock Kedgeree
VEGETARIAN OPTIONS
Mediterranean Vegetable Ratatouille Bake
Asparagus, Pea, Spinach and four cheese Lasagne
Butternut Squash, Peppers and Onions Moroccan Tagine
Oriental Mushroom Stroganoff
Mixed Seasonal Vegetable Curry or Spinach, Squash and Chick Pea Curry (Vegan)
Spicy Bean Cassoulet (Vegan)
POTATO OPTION
Choose one from the following selection:
Hot Minted and buttered New Potatoes
New Potato and Spring Onion Salad in a Creamy Minted Mayonnaise
Half Jacket Potatoes topped with butter and Grated Cheddar Cheese
Crushed New Potatoes and Red Onion with Garlic and Extra Virgin Olive Oil
SALAD OPTIONS
Choice of Four from the following Salads:
Roasted Vegetable Rice
Tuna, Sweetcorn and Pepper Fusilli Pasta in a lemon mayonnaise
Vine Ripened Tomatoes with Fresh Basil leaves and Olives dressed with an aged Balsamic Vinaigrette
Caesar Salad; Crispy cos lettuce with Parmesan and Croutons dressed with a garlic Mayonnaise
Fresh Salad baby leaves
Beetroot and Red Onion Salad
Mixed Bean Salad with an Olive Oil and Vin Cotto dressing
Edamame and Green Bean Salad with a ginger, lime and soy dressing
Waldorf Salad
Greek Salad
Fresh homemade Coleslaw
DESSERTS
Fresh Seasonal Fruit Salads
Pavlova Selection
Baked Vanilla Cheesecake with either a mango & lime or summer berry Coulis
Banoffee Pie
Chocolate or Traditional Old Fashioned Sherry Trifle
Belgian Chocolate Pots
Apple Tart
Tarte au Citron
Pear or Apricot Frangipanes
Chocolate Marquises or Chocolate Boxes
Hot desserts available also on request
Selection of Teas and Coffee served with Mints
*Please note that a supplement applies to these dishes.
All dishes in bold are our favourites!
We treat every event with a personal touch, whether it is a hot or cold buffet, BBQ, wedding breakfast or a silver service sit down meal.
Please note that for your satisfaction and peace of mind, Both Concerto Catering and Fiona's Pantry are Five Star Awarded from the London Borough of Bromley Environmental Health Department. We take pride in serving our food knowing that it has been prepared to the highest standards and no compromises have been made to its quality. In every regard, we know that we can meet your requirements but also exceed your expectations!
This menu has been prepared by Fiona Harrhy, Executive Chef of Fiona's Pantry and Concerto Catering Company, it is by no means set in stone and if there is anything else that you would rather have, please don't hesitant to contact us to discuss your requirements further.